If you're looking for a delicious vegan meal that is packed with flavour, look no further than chickpea curry with basmati rice and naan bread. This recipe is easy to make and perfect for a quick weeknight meal or a lazy weekend dinner. In this article, we'll take a look at why this dish is so popular, the benefits of chickpeas, and how to make the perfect vegan chickpea curry with basmati rice and naan bread.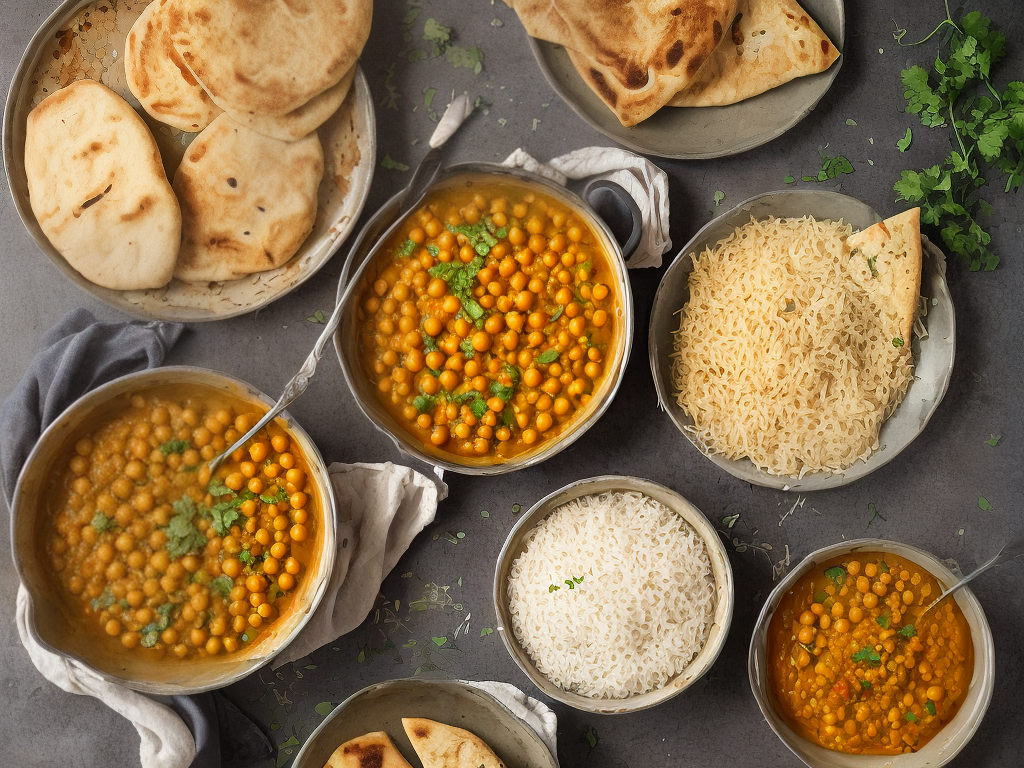 Why Vegan Chickpea Curry is so Popular
Curries are a staple in many cultures around the world and can be found in a wide range of cuisines, from Indian and Thai to Jamaican and Ethiopian. Vegan chickpea curry, in particular, has become increasingly popular in recent years due to its rich flavour and versatility. The combination of creamy chickpeas, tangy tomato sauce, and fragrant spices make for a delicious and satisfying meal that can be enjoyed by vegans and non-vegans alike.
The Benefits of Chickpeas
Chickpeas, also known as garbanzo beans, are a nutrient-dense legume that is a great source of protein, fibre, and a variety of vitamins and minerals. They have been shown to have numerous health benefits, including reducing the risk of heart disease, improving digestion, and aiding in weight loss. Additionally, chickpeas are an excellent source of plant-based protein, making them a popular choice for vegans and vegetarians.
How to Make Vegan Chickpea Curry with Basmati Rice and Naan Bread
Ingredients:
1 tbsp olive oil
1 large onion, chopped
3 cloves garlic, minced
1 tbsp ginger, grated
2 tbsp curry powder
1 tsp ground cumin
1 tsp ground coriander
1/4 tsp cayenne pepper
1/4 tsp cinnamon
1 can (14 oz) diced tomatoes
1 can (14 oz) chickpeas, drained and rinsed
1 cup vegetable broth
1/2 cup coconut milk
Salt and pepper, to taste
Fresh cilantro, chopped (for garnish)
Basmati rice, cooked
Naan bread warmed
Instructions:
Heat the olive oil in a large pot over medium heat. Add the onion and cook until softened about 5 minutes.
Add the garlic and ginger and cook for another minute.
Add the curry powder, cumin, coriander, cayenne pepper, and cinnamon and cook for 1-2 minutes until fragrant.
Add the diced tomatoes, chickpeas, vegetable broth, and coconut milk. Bring to a simmer and cook for 15-20 minutes, stirring occasionally, until the sauce has thickened.
Season with salt and pepper to taste.
Serve the chickpea curry over a bed of basmati rice and with a side of warm naan bread. Garnish with chopped cilantro.
Conclusion
Vegan chickpea curry with basmati rice and naan bread is a delicious and nutritious meal that is perfect for any occasion. It's easy to make, packed with flavour, and a great source of protein and fibre. Whether you're a vegan or just looking for a meatless meal option, this dish is sure to please. Give it a try today!