Introduction to Kitchen Revamping
A kitchen revamp can completely transform the heart of your home. Whether you want to update appliances, change the layout, or give the space an aesthetic overhaul, DIY kitchen remodels are achievable for every skill level. With proper planning, the right tools, and a vision, you can give your kitchen the revitalized look and enhanced functionality you've been dreaming about.
Kitchen renovations often top homeowners' wish lists for good reason – they can modernize the space, improve workflow and storage, and boost your enjoyment of meal prep and entertaining. Even small kitchen upgrades like installing new countertops or cabinetry can make a dramatic difference.
Major kitchen remodels involving knocking down walls or moving plumbing can cost tens of thousands of dollars. However, focusing on more modest updates like paint, lighting, hardware and decor can allow you to revamp your kitchen for less. With strategic planning and elbow grease, you may be surprised what you can accomplish yourself.
Doing a kitchen revamp yourself gives you full creative control to make your space unique on any budget. This guide will walk you through all the key steps of planning your DIY kitchen remodel and equip you with the must-have tools from National Tool Hire to get the job done right.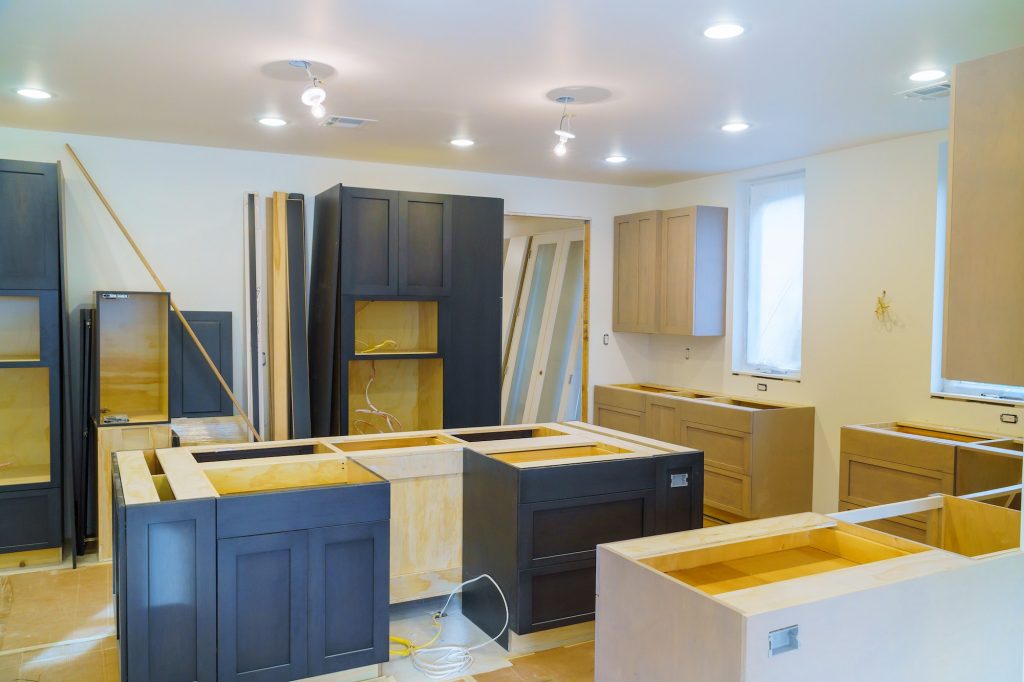 Why Consider a DIY Kitchen Revamp?
There are many benefits to taking on a DIY kitchen renovation, including:
Cost Savings: Hiring contractors for kitchen remodels can be very expensive. Doing it yourself saves significantly on labor costs.
Customization: You can customize your kitchen exactly how you envision it. With full creative control, you can select every material, color, layout and feature.
Sense of Accomplishment: Completing a major DIY project brings great personal satisfaction. You'll feel empowered every time you cook or entertain in your improved space.
Learn New Skills: From tiling to hanging cabinets, a kitchen remodel lets you build new hands-on skills that can be applied to future home projects.
Go At Your Own Pace: You aren't locked into someone else's renovation timeline when you DIY. You can work at your convenience over weekends and evenings.
As long as you do your homework, have realistic expectations about your abilities, and are willing to ask for help when needed, a DIY kitchen revamp can be very rewarding.
The Importance of Planning Your Kitchen Revamp
Careful planning is crucial to the success of any kitchen remodel. Here are some key steps to plan out your DIY kitchen revamp:
Set Your Budget: Evaluate how much you can realistically spend on your kitchen renovations. Get quotes from contractors to estimate what hiring out would cost for comparison.
Assess Your Needs: How do you currently use your kitchen, and how would you ideally like to use the space? Make lists of what's working, what isn't, and your wish list.
Consider the Layout: Does your current kitchen layout need to be reconfigured to be more spacious or functional? Decide if you'll make any structural changes.
Choose a Theme: Browse sites like Pinterest and Houzz to gather inspiration to define the style, color scheme, materials and aesthetics for your new kitchen.
Make a Timeline: Give yourself ample time for each phase, from prep work and demolitions to the installation of new elements. Build in contingencies in case issues arise.
Research Required Permits: Depending on the nature of your kitchen remodel, you may need to apply for building permits. Factor this into your timeline.
Thorough planning at the outset will set your DIY kitchen revamp up for an organized, streamlined and successful execution.
Setting a Budget for Your Kitchen Revamp
Your budget will likely be the biggest factor shaping the scope and scale of your kitchen renovation. Assess how much you can devote to the project, and tweaks you're willing to make to align the work with your budget.
Here are some tips for setting a realistic budget:
Get multiple quotes from contractors to understand potential costs if hiring the project out. This will help you determine reasonable budgets for DIY work.
Decide which elements are highest priority, like new countertops or cabinets, and allocate budget accordingly.
Factor in not just materials and new appliances, but also costs for tools, equipment rentals, proper disposal, and incidentals.
Pad your budget with a 10-20% contingency for unforeseen expenses that often arise during renovations.
Consider financing options like personal loans or home equity loans if you need to spread out costs over time.
Have a plan for potential budget overages – either reducing the scope by deferring some elements to a future phase or putting more towards the project.
Setting a clear budget upfront and tracking all expenses against it will keep your kitchen revamp affordable and minimize financial stress throughout the process.
Understanding Your Kitchen's Layout
The layout of your kitchen will inform what updates are feasible for your DIY renovation. Assess the existing kitchen layout and flow to identify potential changes to improve spaciousness, functionality and ergonomics.
Key factors to evaluate include:
Workflow between sinks, prep areas, appliances and storage
Traffic flow for multiple cooks
The kitchen triangle between fridge, stove and sink
Adequate room around appliances and counters
Efficiency of cabinet and drawer organization
Breaks between shorter and taller cabinet runs
Sightlines between key areas
While major layout changes like knocking down walls or moving plumbing will add complexity and costs, there are DIY ways to improve flow, such as:
Switching the locations of appliances or prep zones
Removing upper cabinets for more openness
Repurposing spaces like pantries into islands
Adding a rolling cart for extra prep space
Widening doorways into dining areas
Optimizing what you have within the existing footprint can make a big difference.
The Role of Functionality in Kitchen Design
A kitchen renovation presents the perfect opportunity to enhance how your space works for you. Every layout, material and component should be evaluated for both form and function.
When planning your DIY kitchen revamp, consider:
Eliminating wasted space and maximizing storage with deeper drawers, racks and organizers.
Incorporating features like pull-out shelves, pantries and slide-out trash/recycling bins for improved access.
Selecting materials that are durable and easy to clean to withstand heavy usage.
Upgrading appliances for faster prep and modern conveniences like smart fridges.
Adding task lighting over key workstations for visibility when cooking and prepping.
Choosing finishes and hardware that make cabinets, sinks and drawers seamless to open and close.
Including amenities like beverage refrigerators, warming drawers and wine fridges you'll use regularly.
A functional kitchen aligns storage, appliances, lighting and layout to create an intuitive and highly efficient workspace tailored exactly how you cook and live.
Choosing a Theme for Your Kitchen Revamp
Narrowing down an overall theme and aesthetic will help guide the selections for your kitchen remodel and create a cohesive feel. Consider what style best matches your home and lifestyle.
Popular kitchen design themes include:
Contemporary: A sleek, modern look with clean lines, up to date appliances and minimalist decor.
Farmhouse: Warm and rustic with wood finishes, exposed beams, and vintage accents.
Traditional: Classic elegance with crystalline fixtures, ornamental hardware and luxurious materials.
Transitional: A blend of traditional and contemporary elements to create a flexible style.
Coastal: Relaxed, beachy charm with painted cabinets, easygoing fabrics and nautical accessories.
Industrial: Utilizes edgy, raw materials like exposed brick, reclaimed wood, concrete and metal finishes.
Scandinavian: Light and airy simplicity with lots of white, natural wood and black accents.
Once you select a style that fits your personality, use it to guide all your material, color and decorating choices for a cohesive revamped kitchen.
The Impact of Color in Your Kitchen
Color is a powerful way to dramatically change up the look and feel of your kitchen during a renovation. Consider how paint, tiles, accessories and materials in different hues can set the tone of the space.
Neutrals like white, beige and gray create a clean, bright backdrop that won't go out of style. They make small kitchens appear larger.
Bold colors from navy blue to emerald green make a dramatic statement. They pair well with crisp white for contrast.
Warm earth tones like tans, browns and terra cotta have a cozy, inviting vibe perfect for rustic or farmhouse kitchens.
Pastels offer a more subdued pop of color. Soft blues, minty greens and blush pinks keep things calm and airy.
When selecting a color scheme, consider adjoining rooms, how much natural light your kitchen gets, and whether cool or warm undertones complement your finishes best.
Don't overlook accent colors to provide contrast, like in your kitchen island, hardware and decor. Just remember – color can always be tweaked down the line with new paint or accessories.
Selecting the Right Materials for Your Kitchen
The materials you select for countertops, cabinets, floors and other elements will define your kitchen's aesthetics, durability and functionality. Research how natural and manufactured materials fit into your design vision and budget.
Countertops: Popular options include granite, quartz, laminate, solid surface, marble, butcher block and concrete. Evaluate wear resistance, porosity, pricing and visual appeal.
Cabinets: Choices like painted wood, stained wood, Thermofoil, melamine and lacquered finishes vary widely in style and cost. Determine the look you want and your budget parameters.
Backsplashes: Tile, metal, glass, stone and other water-resistant materials create focal points behind sinks and stoves. Weigh easy cleaning with your overall aesthetic.
Flooring: For durability, water-resistance and comfort underfoot, luxury vinyl tile, wood-look porcelain, engineered wood and wood laminate are excellent kitchen flooring options.
Don't overlook smaller details like faucets, lighting, sinks and hardware. Finished metals like chrome, bronze, nickel and brass elevate the space with high-end style.
The Basics of Kitchen Lighting
Proper lighting transforms how you cook, socialize and function in your kitchen. Evaluate lighting needs for different zones as you plan your renovation.
Task lighting over the sink, stove and prep areas illuminates close up work. Under cabinet lighting provides focused illumination.
Ambient lighting casts overall general lighting. Flush or semi-flush mounts brighten the full kitchen.
Accent lighting adds drama and highlights architectural or decorative features. Try picture lights, tracks or recessed lighting.
Outdoor lighting illuminates outdoor cooking and dining areas. Deck and patio lights extend usefulness outside kitchen doors.
Dimmers allow you to control light levels for different needs. Dimmable LEDs work well for flexibility.
Light color matters too. Cool LEDs support kitchen tasks while warm lights provide welcoming ambiance for dining areas.
Taking a layered lighting approach ensures your revamped kitchen is truly bright and brilliant.
The Importance of Adequate Ventilation
From steam to grease to unpleasant odors, kitchens generate a lot of air pollution. Adequate ventilation is critical for air quality and limiting moisture issues.
Range hoods mounted over stoves ventilate cooking fumes. Look for ducted models that are at least as wide as the cooktop.
Downdraft range vents hide in the cabinetry and pull smokes downward. Great for island cooktops.
Air purifiers clear lingering odors and filter allergens from the air. Portable or built-in models work.
HVAC integration links range hood ducting to your central air system for whole home ventilation.
Windows are underrated for ventilation. Consider widening openings for cross breezes during a remodel.
Exhaust fans installed in adjacent spaces like bathrooms can improve airflow too.
Don't neglect this important facet of your kitchen revamp. Proper ventilation keeps the air fresh and reduces hazards.
Choosing the Right Kitchen Appliances
Upgrading appliances is one of the most dramatic ways to modernize your kitchen. Evaluate which large and small appliances best suit your needs and budget.
Refrigerators: Look for temperature controlled drawers, interior water dispensers and smart connectivity. Counter depth models blend better into cabinetry.
Ranges and ovens: Dual fuel, induction or gas cooktops combine with electric, convection or steam ovens beautifully.
Dishwashers: Quiet models with adjustable racks, soil sensors and sanitizing cycles are worth the splurge.
Microwaves: Over the range or built into cabinetry, microwaves with convection cooking deliver fast meal prep.
Small appliances: High performance blenders, air fryers, multicookers and espresso machines expand your culinary creativity.
Be strategic in replacing appliances that are outdated or insufficient. Browse showrooms and home shows to identify the latest innovations that best fit your lifestyle.
The Role of Kitchen Cabinets in Your Revamp
Kitchen cabinets can make or break the functionality and aesthetics of your new space. From layout to finishes, optimize your cabinetry during your renovation.
Maximize storage with cabinets to the ceiling, rollout shelves, lazy susans and other smart organizational features.
Rethink upper cabinets for more openness. Swap some for open shelving to display goods.
Contrast finishes by pairing stained lower cabinets with crisp white uppers for dimension.
Modernize hardware by replacing dated knobs and pulls with sleek brushed metals and black finishes.
Lighten things up with on trend white or light gray painted cabinets spruced up with trim accents.
Experiment with textures by mixing glossy and matte cabinet finishes or integrated reclaimed wood panels.
Accent with glass to break up solid cabinet faces, like glass fronted uppers or mullion doors.
Your cabinets set the foundation. Invest time in choosing options that maximize space, storage and style in your revamped kitchen.
Selecting the Perfect Kitchen Countertops
Countertops are the workhorses of every kitchen. Choosing durable, easy to maintain countertop materials that align with your aesthetic is key.
Granite offers timeless elegance and endless pattern options, but requires sealing to resist stains.
Marble provides luxe sophistication, but is prone to etching from acids. Works better for baking zones.
Quartz brings resilient stain, scratch and heat resistance with a sleek contemporary vibe.
Laminate allows you to mimic pricier materials like stone for a fraction of the cost. Great budget option.
Concrete makes a bold, industrial statement. Can be customized with integral pigments or inlaid materials.
Butcher block exudes warmth and pairs beautifully with stainless steel. Requires diligent oiling to protect from wear.
Be sure to select a square footage that provides ample prep space and workspace around appliances. This makes cooking infinitely easier.
The Importance of a Good Kitchen Sink
A kitchen renovation allows you to upgrade to a sink perfect for function and flow. Considerations include:
Depth for avoiding splashes when washing large pots and pans. At least 9-10" is ideal.
Size to fit the space without surrounding countertop prep room being compromised.
Number of basins based on preferences for multitasking or keeping meat and produce separate.
Material like stainless steel, enameled cast iron, copper, composite granite or fireclay for durability and ease of cleaning.
Special features like rolled front edges, drainboards, bottom grids and accessories like cutting boards or colanders.
Faucet compatibility ensuring adequate reach, hole configurations and clearances.
Take time surveying the sink options available. An ideal sink becomes the perfect centerpiece for food preparation and clean up.
Choosing the Right Faucet for Your Kitchen
The workhorse kitchen faucet should align seamlessly with your new sink and work style. When selecting, consider:
Mounting. Wall, deck or single/two-hole configurations must match your new sink.
Reach. Look for side-to-side reach of faucet neck for full sink access.
Spout. High arching spouts keep splashing at bay. Pull-down and detachable wands offer flexibility.
Water pressure and flow. Look for GPMs between 1.5-2.2 for power washing and efficient filling.
Finishes. Polished chrome, stainless, matte black, bronze and more affect the aesthetic.
Extras. Handy extras include pause buttons, touchless activation, filtration systems and auto soap dispensers.
The right faucet brings convenience, style and seamless functionality to your new dream kitchen setup.
The Role of Kitchen Flooring in Your Revamp
Don't neglect the flooring when revamping your kitchen. This foundational surface must stand up to heavy traffic, spills, and being easy to clean while looking fabulous.
Tile is a classic choice that offers endless style options. Use large format tiles with minimal grout lines for easier maintenance. Mop daily to avoid staining.
Luxury vinyl mimics stone, wood and other premium surfaces at a fraction of the cost. 100% waterproof and extremely durable.
Sheet vinyl provides budget-friendly, seamless water resistance. Easier for DIY installation than tile.
Laminate provides the look of real wood with synthetic wear protection. Use water-resistant versions to withstand moisture.
Vinyl wood planks combine the rustic appeal of wood with the perks of vinyl.
The Impact of Backsplashes in Your Kitchen Design
The often overlooked backsplash presents a wonderful opportunity to inject color, texture and personality into your new kitchen.
Tile in natural stone, glass, porcelain or ceramic allows you to create stunning mosaics or geometric patterns. Use water-resistant grout.
Metal like copper, stainless steel or tin backsplashes infuse industrial flair. Can be purchased in affordable ready-to-install sheets.
Glass backsplashes glitter gorgeously. Available in mirrored, colored, etched and recycled glass styles.
Wood adds rustic warmth layered behind sinks and stoves. Use weather-resistant bamboo or marine-grade waterproof plywood.
Painted drywall is an easy budget option. Use semi-gloss or high-gloss sheens for wipeable surfaces.
Have fun designing your ideal backsplash look featuring colors, materials and shapes tailored to your new kitchen's style.
The Importance of Good Kitchen Storage
Even the most spacious kitchens can benefit from enhanced storage solutions to keep items organized and maximize every inch.
Dedicate drawers for plates, pots, baking sheets, utensils, spices and other categories to eliminate rummaging.
Use racks or drawer inserts for foil, baggies and cling wraps to keep them neatly at hand.
Convert wasted spaces like the area over the fridge or voids around chimneys into cabinet storage.
Add pull out shelves, lazy susans and other space saving mechanisms to deep cabinets and blind corner spots.
Consider new freestanding pantries or converted closet spaces for expanded food storage.
Take time to analyze where your kitchen falls short on storage and devise customized solutions to clear clutter.
The Role of Kitchen Islands in Your Revamp
Kitchen islands are the ultimate multifunctional workhorses. Adding an island or revamping an existing one can completely transform your kitchen.
Create extra prep space and casual snack seating. Look for 36-42" heights for comfort.
Include storage with cabinets and shelves for small appliances. Drawers are great for utensils.
Accommodate additional sinks, dishwashers or cooktops to expand functionality.
Use one side for a contrasting finish to add character, like a wood or marble surface.
Incorporate pendant lighting over islands to amplify light and ambiance.
Keep sight lines open to avoid an island feeling cluttered. Built-in organizers keep items out of view.
With some elbow grease and creative problem solving, you can add island appeal perfectly suited to your needs.
The Benefits of Open Shelving in Your Kitchen
Open shelving provides a lighter, airier alternative to wall cabinets in kitchens. The benefits go beyond the visual too.
Displays cherished dishware, cookbooks and accessories as decor.
Eliminates rummaging through cabinets to quickly grab everyday items.
Allows you to highlight fun accent colors behind the shelves.
Creates a more casual, rustic vibe perfect for cottages or farmhouses.
Makes a small kitchen feel more spacious and less crowded.
Affords easy access to items for those who can't reach higher cabinets.
Provides better ventilation from the absence of cabinet doors.
Just be sure to include closed storage for items you don't want on constant display. The combo maximizes form and function.
The Impact of Wall Art in Your Kitchen Design
Like any living space, well chosen wall art and décor personalizes a kitchen while enhancing visual appeal.
Paintings, prints and photos featuring food, cooking or nature complement kitchens beautifully.
Collections of framed botanical prints or vintage cookbook pages create collage-like focal points.
Floating wall shelves artistically display cookbooks, ceramics, plants or whimsical pieces.
Framed chalkboards or marker boards create handy spaces for notes, to-do lists or inspirational quotes.
Large scale architectural panels, textural wall coverings or decals jazz up blank walls.
Mirrors visually expand small kitchens and amplify light beautifully.
Infusing personality into your kitchen revamp through art, prints and décor reflects the home cook.
The Importance of Comfortable Seating in Your Kitchen
While often overlooked, comfortable seating extends the usefulness of kitchens beyond just food prep.
Breakfast nooks maximize unused space for morning coffee and meals. Built-in or freestanding banquettes use less space than chairs.
Kitchen islands with overhangs create casual seating for quick bites. Add stools with back support.
Upholstered chairs provide cozy spots for enjoying coffee or reading recipes.
Place two chairs at the ends of islands to allow for intimate conversation amidst cooking.
Built-in window seats flanking sinks create charming places to sip tea or admire views.
An distressed wood bench, painted chair and accented throw pillows by a kitchen table keep things relaxed.
Make sure your kitchen revamp includes spots to sit back and truly enjoy the space you've created.
The Role of Window Treatments in Your Kitchen
Kitchen window treatments must balance lighting needs with privacy and style.
Sheer linen or lace curtains diffuse light beautifully while maintaining visibility.
Roll up shades offer the ability to control visibility and light as needed at different times of day.
valence boards mounted over sink windows provide pretty focal points.
Roman shades in stain resistant fabrics like Sunbrella add softness with durable cleanability.
Adjustable wood or faux wood blinds offer privacy without totally blocking light.
Draw drapes in luxurious fabrics transform windows into dramatic focal points.
Don't settle for bare windows in your newly revamped kitchen. Frame them beautifully while amplifying functionality.
The Benefits of Adding Plants to Your Kitchen
No kitchen revamp is complete without greenery. Plants enhance aesthetics while improving air quality.
Spider plants, aloe, orchids, succulents and cacti are low maintenance options that thrive indoors.
Herb gardens in window boxes or pots on sills provide fresh garnishes within arm's reach.
Hanging plants like pothos or philodendrons are gorgeous above sinks. Use hooks for installation.
Larger floor plants like fiddle leaf figs or rubber trees create striking corners.
Floating shelves filled with petite plants turn bare walls into vertical gardens.
Moss walls inject vibrant color without requiring much care.
Rejuvenate your DIY kitchen facelift with the vitality and color of indoor plants. They boost moods along with enhancing décor.
Essential Tools for Your Kitchen Revamp
Once you've planned your kitchen upgrades, it's time to assemble supplies. While every project will require specialized gear, here are some essentials:
Protective gear like safety glasses, masks, knee pads, and work gloves.
Tape measures, levels, stud finders, markers and ladders for prep work.
Oscillating multi tools, jigsaws, sanders, drills/drivers and circular saws for demo and modifications.
Paintbrushes, rollers, paint trays and tarps for protecting existing finishes during paint jobs.
Caulk guns, putty knives and silicone for installing and sealing sinks, backsplashes and more.
Dustpans, heavy duty garbage bags and vacuum cleaners to keep spaces clean during the work.
By gathering the right tools and safety equipment ahead of time, your kitchen overhauls will proceed efficiently and safely. Never hesitate to rent specialized tools either – they can be real game changers on DIY renovations.
Why Rent Tools from National Tool Hire?
Kitchen renovations often require specialized tools you may not own or want to invest in just for a one-time project. Renting is a budget-friendly option.
National Tool Hire offers top name brands at affordable rates with personalized service. Benefits include:
One stop shop for all equipment needs from demolition tools to flooring staplers.
Hassle-free rental process with an easy online reservation system.
Flexible rental terms whether you need gear for a day or whole month.
Convenient delivery and pick up that eliminates lugging heavy tools.
Staff expertise to recommend the best tools for each renovation task.
Well maintained inventory with new tools rotated in regularly.
Renting from National Tool Hire ensures access to the specialty tools that make DIY kitchen overhauls achievable.
The Role of Safety Equipment in Your Kitchen Revamp
Safety should be the top priority for any DIY renovations. Protect yourself fully with proper safety gear.
Dust masks keep inhaling debris during demolitions manageable. Look for N95 rated options.
Safety goggles are essential when cutting tile or wood or drilling overhead. Use impact resistant lenses.
Ear protection like earmuffs blocks noise from high decibel tools like sanders and grinders.
Knee pads alleviate joint strain from hours of installing flooring or tiling on hands and knees.
Work gloves provide grip and protect hands from blisters, cuts and abrasions.
Steel toe boots shield feet from dropped tools or other accidents.
First aid kits need to be on hand for minor cuts, burns or injuries.
Using protective equipment suitable for each renovation task is the smart way to work through your DIY kitchen upgrades injury free.
Essential Power Tools for Your Kitchen Revamp
Power tools allow DIYers to take on tasks that otherwise require contractors. Must-have power tools include:
Drills make installing cabinets, hardware and more infinitely easier. Cordless drills with extra batteries speed work.
Sanders smooth and prep surfaces for new finishes and are indispensable for refinishing cabinets or furniture. Random orbital sanders are very versatile.
Circular saws cut lumber, sheet goods and tile when taking on projects like installing new floors or removing walls. Carbide tipped blades last.
Jigsaws cut curves and openings needed for plumbing and electrical updates cleanly and accurately.
Reciprocating saws demolish old materials quickly and are heavily used during kitchen remodels.
Oscillating multi tools get into tight spaces other tools can't with specialized attachments. Great for installing and updating kitchen plumbing neatly.
Power nailers and staplers save endless time and effort when installing or removing cabinetry, trimwork or wood flooring during renovations.
Don't be intimidated by power tools. With proper precautions and the right protective gear, they'll become indispensable allies.
The Importance of Accurate Measurement Tools
"Measure twice, cut once" is advice to live by for kitchen renovations. Quality measuring and marking tools prevent costly do-overs.
Tape measures are a basic necessity. Go for ones with extra sturdy blades up to 25 feet.
Combination squares ensure precise 90 degree angles for installing cabinets, tile and more.
Levels verify surfaces are perfectly horizontal or vertical when hanging lighting, cabinets and shelves.
Laser measures calculate distances instantly to take the guesswork out of measurements.
Stud finders locate hidden framing to secure cabinets and wall mounted fixtures properly.
Chalk lines mark perfectly straight lines for tile and guide sawing and drilling.
Marking knives create fine cut lines in materials without tearing or fuzzing.
Accurate DIY kitchen renovations start with meticulous measurements. Invest in quality tools and verify as you go.
Selecting the Right Hand Tools for Your Kitchen Revamp
While power tools accomplish the brunt of work, quality hand tools finesse details for a professional finish. Kitchen revamp must-haves include:
Pry bars quickly demo old cabinets, flooring and fixtures while minimizing drywall damage. Look for curved ends to protect surfaces.
Putty knives seamlessly apply putties, sealants and adhesives for countertops and tiles. Stainless steel offers flexibility.
Clamps act as extra sets of hands securing cabinets, countertops and trim during installation before fastening permanently.
Utility knives provide controlled cuts and notches in cabinetry, flooring and plumbing access holes. Use retractable blades for safety.
Hammers efficiently drive or remove nails during demolition or installation of woodwork and cabinetry. Choose fiberglass handles for comfort.
Chisels gouge precise openings and notches when fitting countertops and cabinets together perfectly.
Every home DIYer needs this arsenal of hand tools ready for kitchen overhauls and renovations.
The Role of Painting Tools in Your Kitchen Revamp
A fresh coat of paint provides an instant facelift to worn out kitchens. Ensure flawless results with the right painting tools:
Paint sprayer for fast, consistent coverage on cabinets and trim. Clean meticulously between coats.
Angled paint brushes for precision work like cutting in along ceilings or baseboards. Look for beveled edge bristles.
Paint rollers in varied nap lengths quickly cover large flat surfaces like walls. Microfiber or foam prevents linting.
Paint trays minimize spills and messes when rolling. Disposable liners simplify cleanup.
Drop cloths and painters tape protect existing finishes from drips, splatters and overspray. Use multiple layers.
Sanding blocks/sponges smooth surfaces between coats for professional looking finishes.
LED work lights properly illuminate work areas for identifying any missed spots.
With the right tools, you can achieve magazine-worthy painted finishes in your newly revamped kitchen.
The Impact of Proper Cleaning Tools in Your Kitchen Revamp
Remodeling inevitably creates messes. Be ready to minimize dust and debris with:
Shop vacuums contain wide ranging messes as you demolish and construct. Look for HEPA filters.
Dust masks and safety googles shield lungs and eyes from sawdust and contaminants.
Magnetic vent covers prevent HVAC system clogs during dusty projects. Change filters after.
Tack cloths grab dust, dirt and particles between finishing coats on cabinets, walls and trimwork.
Mops like microfiber or steam cleaners sanitize tile and sealed flooring after construction.
Brooms and dustpans make quick work of clearing up chips, dirt and broken material bits.
Tarps protect existing floors and surfaces when sawing and spraying paints or finishes.
Clean as you go and stock cleaning essentials. Your DIY kitchen remodel will involve lots of dust generation so control the spread from the start.
The Importance of Good Quality Adhesives and Sealants
The right adhesives and sealants ensure new components in your kitchen renovation stay securely and permanently in place. Invest in premium quality.
For countertops and tile, use modified polymer mortar adhesives that allow some shifting during installation without breaking the bond. They last forever.
Silicone sealants come in various grades. Look for 100% silicone like GE Momentum that won't crack or fail. Use anytime components like backsplashes meet countertops and walls.
Construction adhesives bond wood trim, cabinets and other finishes in place quickly and powerfully. They withstand vibration and shifting better than traditional wood glues.
Epoxy adhesives create super strong permanent bonds rapidly. Great for bonding two different materials like metal and plastic plumbing parts.
Don't skimp on glue and sealants – the right ones do the hard work of securely bonding your new kitchen components together for the long run.
The Role of Ladders in Your Kitchen Revamp
The right ladder ensures you can work safely and comfortably to paint ceilings, install lighting fixtures and more overhead work.
Choose ladders based on room layout. Step ladders allow stability when situated perpendicular to walls. Straight ladders angle against surfaces.
Heavier duty fiberglass or aluminum options provide the safest footing. Steel ladders conduct electricity so avoid for kitchens.
Look for articulating ladders that can be positioned in stepladder and straight configurations through adjustable joints. Added versatility!
Ensure weight ratings support you plus gear and tools you'll be working with. Durability matters.
Rubber feet, grips and stabilizer bars allow ladders to grip floors solidly without slipping.
Don't take shortcuts using chairs or benches. Investing in the right ladder improves safety exponentially when DIYing kitchen upgrades.
The Benefits of Using a Workbench in Your Kitchen Revamp
A sturdy workbench saves your back and provides the perfect construction zone for your kitchen renovation projects.
Protects existing floors and cabinetry from damage when sawing, sanding, painting or staining components.
Offers a generous work surface for comfortable cutting, drilling,assembly and detailing work.
Allows you to clamp pieces firmly in place when precision is mandatory.
Provides portable power by integrating power strips, vices, storage and outlets.
Adjustable heights allow you to work seated or standing for better ergonomics.
Keeps projects organized and tools easily accessible without wasting time searching.
Rolls easily around kitchen so you can work nearest each project area.
Invest in a quality workbench and your DIY remodeling productivity and precision will skyrocket. It's worth the splurge.
The Importance of Proper Waste Disposal During Your Revamp
Remodels generate tons of waste needing proper disposal from flooring scraps to old cabinetry and appliances. Plan ahead to keep your kitchen organized.
Rent a dumpster to consolidate waste in one spot until ready for hauling away. Compare sizes to your needs.
Set up clearly marked bins for sorting recyclables like metals, cardboard and wood to divert them from landfills responsibly.
Schedule regular pickups for non-recyclable waste so it doesn't accumulate overwhelmingly.
Remove doors and drawers from old cabinets to substantially reduce their size and make hauling easier.
Take old appliances to metal recycling centers so hazardous components are safely handled. Many haul them away for free.
Compost old counters, wood and other organic waste for enrichment of gardens and lawns.
Smart waste management during renovations keeps your project on track and minimizes environmental impact.
The Role of Protective Coverings in Your Kitchen Revamp
Preserving existing finishes like floors and countertops from damage keeps costs down. Use heavy duty coverings wherever you'll be working.
Plastic sheeting taped down provides affordable protection. Use multiple layers for high impact zones.
Masonite or plywood boards prevent dents where heavy demolition or construction will happen.
Specialized floor protection paper absorbs spills and debris while cushioning traffic. Tape seams.
Furniture sliders or caster wheels allow you to smoothly relocate existing furniture off floors before work begins.
Adhesive mats trap dust, dirt and debris from shoes to keep it contained to work zones.
Drywall dust containment systems seal working areas to prevent tracking dust through unaffected rooms.
Don't let damage to finishes derail your carefully planned budget. Protective coverings are a cheap way to avoid unnecessary expenses.
The Impact of Proper Ventilation During Your Revamp
From demo dust to paint fumes, kitchen renovations generate lots of airborne particles and chemicals needing proper ventilation.
Switch HVAC systems to circulate fresh air from outside instead of recirculating stale contaminated air indoors.
Use portable exhaust fans in renovation work areas to direct dust and fumes outside rapidly.
Open windows whenever possible to capitalize on fresh breezes, especially when using pungent adhesives or finishes.
Contain high volatility tasks like staining or painting to isolated areas that can be sealed off from unaffected zones.
Install new range hoods early on to remove cooking related particles during the remodel process.
Upgrade HVAC air filters frequently during construction to catch more contaminants.
Improving ventilation limits health hazards and keeps your revamp on schedule by avoiding work pauses due to overwhelming fumes or dust.
The Importance of First Aid During Your Kitchen Revamp
Even seasoned DIYers encounter minor mishaps on occasion. Be prepared to care for small injuries with a well-stocked first aid kit:
Adhesive bandages of assorted sizes seal cuts and abrasions from slip ups quickly.
Antiseptic wipes and antibiotic ointments prevent infections in wounds or blisters.
Medical tapes, gauze, instant cold packs and scissors equip you to make customized dressings.
Pain relievers like acetaminophen or ibuprofen alleviate muscle aches from repetitive motions.
Burn cream and aloe vera gel soothe and heal mild burns from tools or hot glues.
Eyewash solution flushes dust, grime or liquids from eyes if splashed.
Don't let minor mishaps derail your momentum. With the right first aid supplies on hand, you can patch yourself up and get back to work quickly.
The Role of Patience in Your Kitchen Revamp
Remodels involve dealing with the unexpected – from material shortages to unanticipated repairs. Giving yourself grace prevents frustration.
Build large buffers into timelines to accommodate unpredictable delays and complications.
Order supplies and materials well in advance in case anything is backordered or discontinued.
Focus on enjoying the methodical process versus fixating on the end result.
Go into projects knowing renovations often involve a degree of demolition before it comes back together. Destruction precedes reconstruction.
Research shows DIY projects almost always take longer than initially estimated. Anticipate this reality.
Celebrate small milestones like installing a new faucet or demolishing old cabinets to appreciate progress.
Infuse your DIY kitchen revamp with patience and delight in the journey. You'll avoid unnecessary stress when hiccups arise.
The Impact of Good Organization During Your Revamp
Meticulous organization maximizes efficiency and minimizes lost time hunting for tools or materials during busy renovations.
Categorize supplies and tools broadly, like all painting gear in one bin, electrical in another, hardware in a third, etc. Use portable caddies to move category bins room to room.
Label everything clearly for instant identification – tape measures, screwdriver sets, hardware, appliances, etc. Use color coding too.
Designate immaculately organized workbenches or tables for each stage like cabinet painting or tilework. Return every item to its designated spot after use.
Maintain an up to date inventory list or photos of where specific items are located to avoid misplacing anything.
Set up an assembly line style workflow to move sequentially between tasks like sanding, priming cabinets, painting coats, etc.
Sort and dispose of waste frequently into clearly marked recycling bins and dumpsters.
Tidy, meticulous work zones make DIY kitchen remodels less stressful and much smoother. You'll get more done.
The Importance of Taking Breaks During Your Kitchen Revamp
Marathon work sessions during tiring renovations can lead to hasty mistakes and increased injuries. Schedule regular breaks to recharge fully.
Take 10-15 minute breaks hourly to rest eyes, stretch tight muscles and regain mental focus. Hydrate and fuel up.
Know your limits and stop when fatigue sets in. Pushing through exhaustion increases the likelihood of accidents.
Eat nutritious snacks like vegetables, nuts and proteins to power through without energy crashes.
Alternate repetitive motion tasks to give overworked muscles a chance to recover.
Prevent soreness by proactively stretching and foam rolling after long work days.
Conclude work by a reasonable hour to allow your body proper rest for the next day.
Honor your mental and physical limitations throughout your kitchen remodel. Taking timeouts enhances the quality of work and prevents injury.
The Role of Fun in Your Kitchen Revamp
Infusing joy and celebration into your DIY kitchen overhaul makes the journey more memorable. Look for moments of fun.
Crank favorite upbeat music and dance while you demolish old cabinets or prep for new installations. Release stress!
Mix creative cocktail "demo-litions" to toast achievements like finishing countertop installations or sink hookups.
Get friends involved for communal tile-laying parties or cabinet painting bees to lighten the workload.
Use edible paints to pre-mark demo lines kids can help hack away before the real work begins. They'll love contributing.
Display vision boards or renovation plans prominently as inspiration and tools for manifesting your dream kitchen.
Capture progress with photos and videos throughout the process to create commemorative time lapses for when the work is done.
Kitchen overhauls take immense effort. Finding fulfilling moments along the journey makes them rewarding.
The Benefits of a DIY Kitchen Revamp
After reviewing all the key steps for revamping kitchens yourself, the benefits should be clear. DIY kitchen overhauls allow you to:
Save substantially on labor by completing renovations yourself versus hiring out.
Build invaluable hands-on skills in home improvement for future projects.
Customize your kitchen exactly as envisioned since you're in charge.
Work at your own pace around your schedule and priorities.
Feel an immense sense of personal pride in the transformation you created.
Know your kitchen inside and out having installed components yourself.
Make upgrades affordably in phases instead of all at once.
Show off your newly acquired renovation skills to friends and family.
With the right prep, tools and commitment, you can DIY your dream kitchen. Enjoy the deeply satisfying process.
Conclusion: Enjoying Your New Kitchen
After months of dreaming, planning and hard work, your DIY kitchen revamp is complete. As you cook your first meal and relax in your refreshed space, celebrate all you accomplished.
May your newly revitalized kitchen bring you joy and functionality for years of gourmet cooking and meaningful moments around the table. Remember to appreciate how even small upgrades make a difference, and that the journey was just as meaningful as the outcome.
The skills you honed and lessons you learned remodeling your own kitchen will serve you well on future DIY projects. Here's to successfully completing this labor of love – may your kitchen continue nurturing comfort and creativity.