It's a funny thing: even though I've been writing, styling, and taking photos here for almost three years, it still feels a little strange to think of myself as a food blogger. For a long time, I thought that maybe this was because this isn't my day job (i.e. I'm not blogging professionally), that meant it couldn't be more than a little side project, one that I rarely brought up outside of my immediate circle of friends and family. I'd think about the nature of this particular type of blogging all the time, and I had so many questions — questions about tone and audience, props and styling, promotion, scheduling, sponsorship, but I was too nervous to reach out to anyone about it.
And then I stumbled across a group of fellow Canadian food bloggers (hi, FBC!) and through this group, I came across Julia and her gorgeous blog, Imagelicious. I always felt like you could really get a sense of who she was through her writing, and her recipe photos were so gorgeous, I began (wisely) to avoid looking at her site before lunchtime! And then one day, I mustered up the courage to send her an email to see if she'd be willing to collaborate on a post together.
I was thrilled when she agreed, but I knew I'd made a new friend when she typed back: "Sweets are also my favourite to photograph." And so we did! I had such a great time baking together at Julia's place. There is something so nice about being able to share baking — something I normally do alone — with someone who really loves it the same way I do! It was great to have someone else to bounce around ideas with, and to work toward a common goal. And since I'm the most forgetful baker on the planet, I must admit that it was also very nice to have someone double-check the ingredients and realize that we'd forgotten to add vanilla!
We made an absolutely spectacular mess together trying to assemble this cake: little exploding clouds of sugar and spice, chocolate cake batter on every surface, using a thousand times more dishes than necessary — and it was a blast. And the best part was the generous slices of cake we cut for ourselves as a reward for a 'hard' day's work.
This spiced hot chocolate cake is the perfect treat for when the weather begins to cool. It's a take on those intense shots of Mexican(ish) spiced hot chocolate, and I love the twist that the spice lends to an otherwise classic chocolate cake. The cake is unbelievably tender, and the buttermilk chocolate frosting lends a little sweetness and balances the flavours of the cake perfectly. It would pair beautifully with some hot tea or coffee, or perhaps even a hot toddy if you're really feeling the chill. 😉
Julia's got some of her own gorgeous photos from this adventure on her site, so please check them out here and say hello!
Are you baking up some cool-weather dessert favourites, Dear Readers? Let me know in the comments!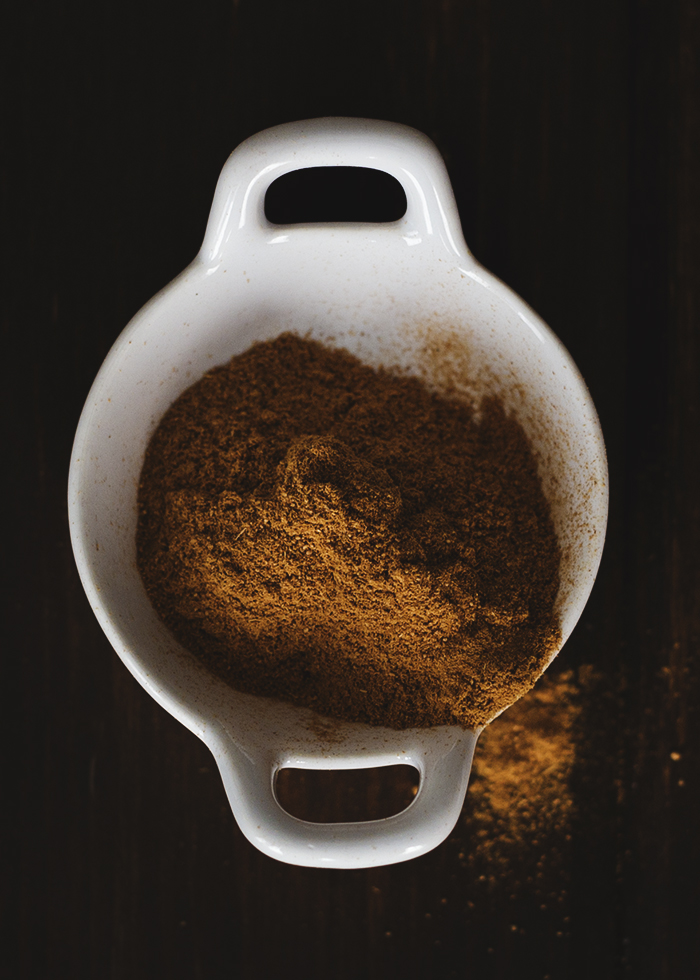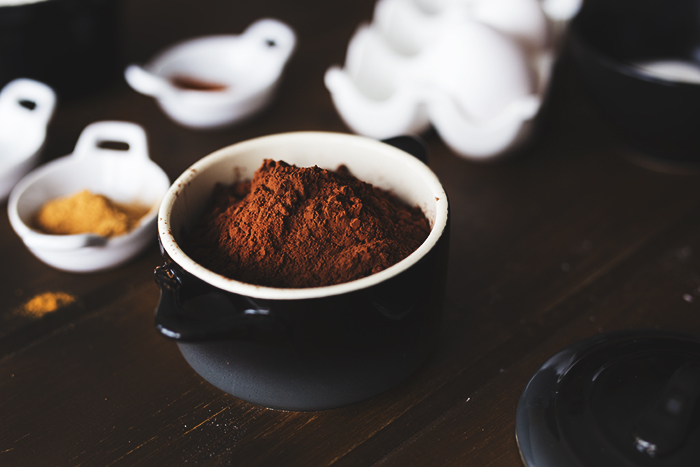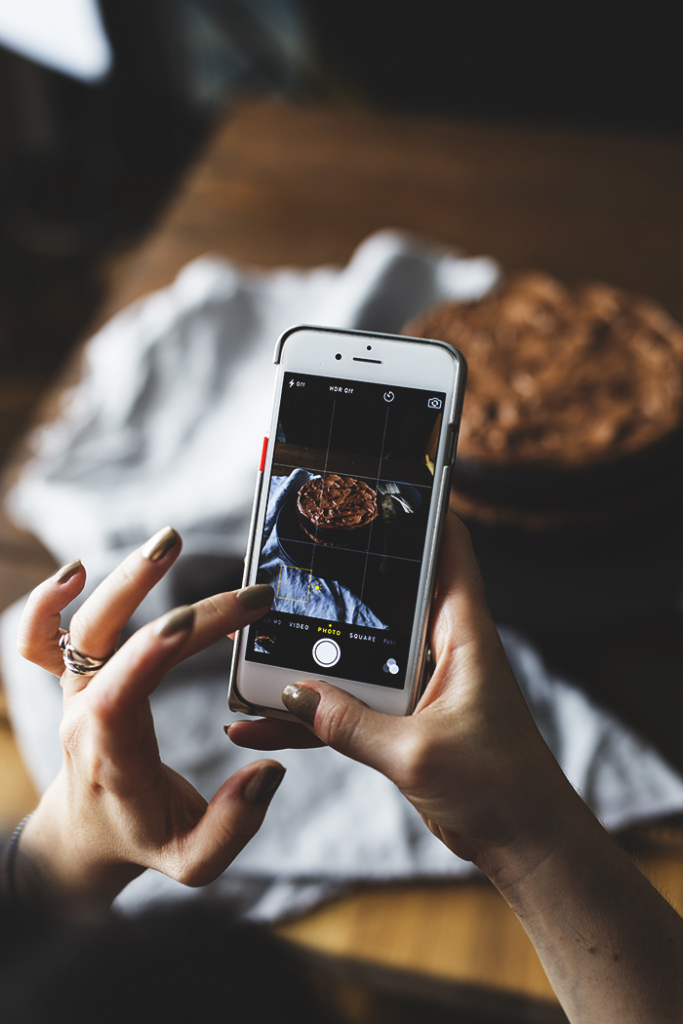 How to do it:
Spiced hot chocolate cake
Prep Time: 10 minutes
Cook Time: 25 minutes
Total Time: 35 hours
Yield: 10-14 servings
A gorgeous chocolate cake with a slightly spicy twist — like a Mexican hot chocolate shot in cake form. Adapted from Sweetapolita and Nicole Spiridakis' Flourless
Ingredients
1.5 cups flour (190g)
1.5 cups sugar (300g)
2/3 cup dark unsweetened cocoa powder (not Dutch-processed) 80g
2 tsp baking soda
1 tsp baking powder
3/4 tsp salt
1 Tbsp cinnamon
1/2 tsp cayenne powder*
3/4 cup buttermilk, room temperature
2/3 cup hot water
3/4 cup vegetable/canola/sunflower oil
1.5 tsp vanilla
2 eggs
1/2 cup (115g) softened butter
60g semi-sweet or dark chocolate, melted
1/2 tsp vanilla
1/8 tsp cayenne powder*
1 cup (100g) confectioner's sugar
2-3 Tbs buttermilk
Directions
Preheat oven to 350° F (180°C). Spray the bottom of two 8-inch round cake pans with cooking spray and line bottoms with parchment rounds. Set aside.
In a large mixing bowl, sift flour, sugar, cocoa powder, baking soda, baking powder, salt, cinnamon, and cayenne.
In a medium bowl or measuring cup, combine the buttermilk, water, oil, and vanilla, and then mix in eggs.
Add liquid mixture to dry ingredients and whisk until smooth, about 1 minute. Divide batter equally among the two cake pans or weigh for accuracy–each pan should weigh about 385 grams.
Bake until a wooden pick inserted into the centre of the cake comes out with a only a few crumbs, about 23 minutes. Try not to over-bake. Let cakes cool in pans on a wire rack for 10 minutes, and then turn onto rack to cool completely.
Place butter in a large bowl and beat with an electric mixer until fluffy. Add the melted chocolate and vanilla, and cayenne, and beat to incorporate. Sift in the icing sugar, stir. Add the buttermilk 1 Tbs at a time, until the frosting reaches your desired consistency.
Set one of your cooled cake layers on a cake stand or serving platter. Cover with just less than half the total frosting, and swirl to the edges with a spoon. Top with the second cake layer, and repeat the frosting swirls with the remaining frosting.
*Please note: the amount of cayenne in this recipe is based off of the one I use in my kitchen, which is getting on a little in age, and not especially strong. If you have a very potent cayenne — or if you're averse to spice in general — I suggest halving the amount called for here.