Are you tired of the same old breakfast dishes? Why not switch it up with a savoury breakfast galette that is both filling and delicious! This recipe combines the sweetness of roasted tomatoes with the tanginess of feta cheese, all wrapped in a crispy pastry crust. Plus, it's a great way to use up any leftover vegetables in your fridge.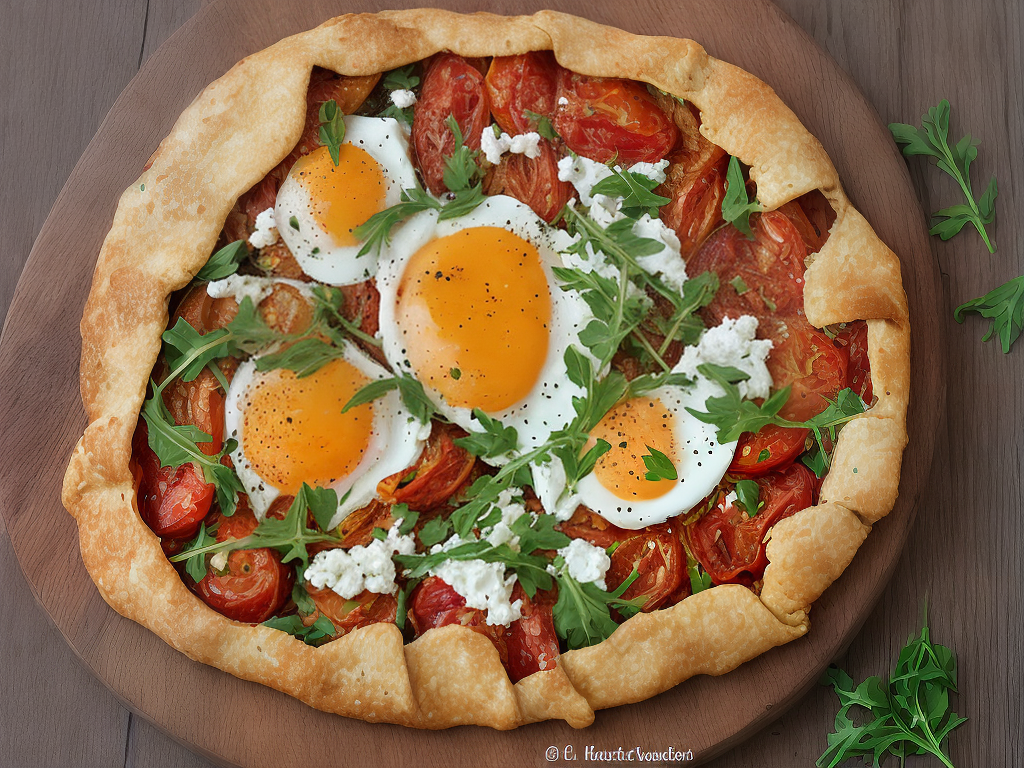 Ingredients
Before we get started, let's gather all the ingredients we need:
1 pre-made pie crust
1-pint cherry tomatoes
1 tablespoon olive oil
1/4 teaspoon salt
1/4 teaspoon pepper
4 large eggs
1/4 cup milk
1/4 cup crumbled feta cheese
1/4 cup chopped fresh basil
Instructions
Now that we have all our ingredients ready, let's get cooking!
Step 1: Preheat the Oven
Preheat the oven to 400°F (200°C).
Step 2: Prepare the Tomatoes
Wash and dry the cherry tomatoes. Place them on a baking sheet and toss with olive oil, salt, and pepper. Roast in the oven for 15-20 minutes, or until they start to burst and caramelize.
Step 3: Roll out the Pie Crust
While the tomatoes are roasting, roll out the pre-made pie crust on a floured surface. Transfer the crust to a baking sheet lined with parchment paper.
Step 4: Whisk the Eggs
In a small bowl, whisk together the eggs and milk.
Step 5: Assemble the Galette
Once the tomatoes are roasted, arrange them on the pie crust, leaving a 2-inch border around the edges. Pour the egg mixture over the tomatoes, then sprinkle with crumbled feta cheese and chopped fresh basil.
Step 6: Bake the Galette
Fold the edges of the pie crust up and over the filling, creating a rustic, free-form shape. Bake the galette in the preheated oven for 25-30 minutes, or until the crust is golden brown and the egg is set.
Serving Suggestions
This savoury breakfast galette is best served warm, straight out of the oven. It makes a great breakfast or brunch dish and pairs well with a simple green salad on the side.
Variations
Feel free to get creative with the ingredients in this galette! Here are some ideas to try:
Swap out the cherry tomatoes for sliced zucchini, bell peppers, or mushrooms.
Use goat cheese or shredded cheddar cheese instead of feta cheese.
Add cooked crumbled bacon, sausage, or ham for a meatier version.
Conclusion
If you're looking for a delicious and unique breakfast dish, give this savoury breakfast galette a try. With its crispy crust and flavorful filling, it's sure to become a new favourite. Plus, it's a great way to use up any leftover vegetables in your fridge!